Hi friend,
Alscher - Hancock Residence
The venue for May's tour is postponed, so we have scheduled an encore tour for June.
WHAT: LEED Platinum home tourWHERE: Clifton

,

Cincinnati, OH (You'll get the address when you register)

WHEN: Saturday, Jun 16, 2018; 10 am till Noon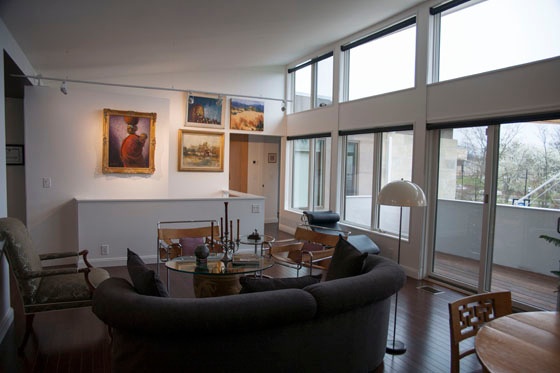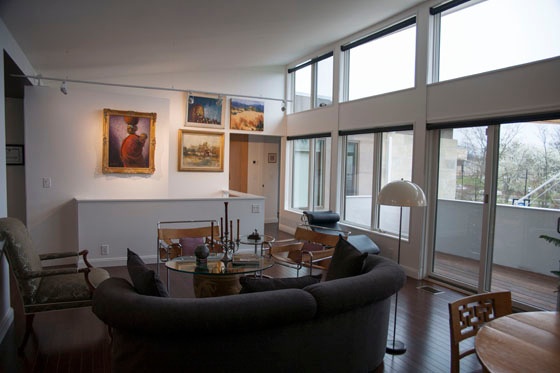 We toured the Alscher Hancock home in March 2016 and here are some notes I took from John Hancock and Marcia Alscher's comments. Along with some questions asked.

John, "I think the story begins as soon as our three kids are out of the house, we did some pretty aggressive downsizing in order to move, and we ended up in a condo at the Banks, and this was a few years before my retirement. And then when we saw my retirement looming on the horizon, Marcia was already retired and working as a fine art painter and the studio was about this big, and that was it. So, with my retirement coming we knew that it was not going to work so we started looking for houses around the city. We were interested in the suburbs or how to reduce the commuting time. I'm hoping we could walk to jobs. So, we looked at a bunch of old houses around the city and everything either had, you know, the yard was too big, or the stairs were too steep or whatever. Because we were looking to move one more time and then that's it. In other words, it had to be our forever house.

So, we looked at these houses and they didn't take more than maybe a dozen altogether before we realized, Well, we got to try to build something. And that's when our realtor helped us discover that these subdivision's lots had just been sitting here and not selling for a long time, for some reason. Suddenly they were selling so we just stopped and got right on the phone and said, Okay, what's left, we'll take it, because, it's a walkable neighborhood."


So, being architects, you must've been really excited to design your home.

Marcia, "Of course. This is my first house ever. I never did residential. I did institutions, things like city halls, public schools, Catholic schools, hospitals. So, this was a brand new experience for me to be able to do a residence and especially our own."

John, "I've done one before and a little bit of consulting on remodels and stuff. Many were decades ago. So, this was coming back to it after a long time. So, anyway getting back to the design and then after we just sort of pulled out all the tricks for making it feel spacious, a feeling like that. So, I guess that's it for the general design. One of the tricks, by the way, my favorite trick is the 7-degree angle. That's making it a more spacious place.

The advantage of being a middle block is that we didn't want to leave one side of the house ugly. So, we had to compose each space very carefully. All right so that's the general design principles, I think. But yes, you'll see remnants of the angle in every room.

It's not entirely minimalist, but it's kind of there. One of the early experiences for us as architects, and for me especially as an architectural historian, I guess, one of the problems was we knew we wanted contemporary, so there we are contemporary; lots of glass, flat roof. And all these sketches came out looking like mid-century modern. A lot of people like mid-century modern now, that's fine, but what does that mean? That means like it's the 1950s. Oh, my gosh, how bad are we at designing something if it looks like the 1950s! We might as well do a Cape Cod here. So, that did not feel right at all. So, that's kind of where the little soft angles came from, and that's where the butterfly roof came, 'cause we got to keep this up into the current century."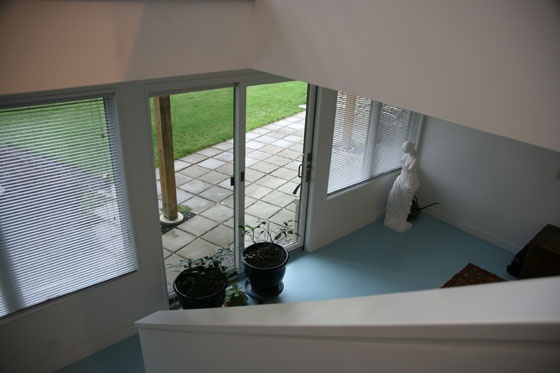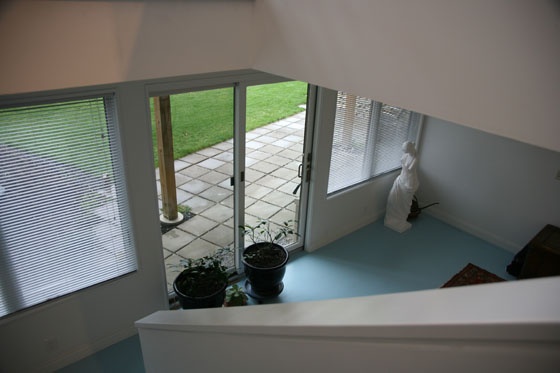 Do you have a name for this new style?

John, "No."

Marcia, "Home."

John, "Just had to be a little edgier than all mid-century modern."

At what point did you have any major disagreements? It was obviously a team approach, so I'm curious about that, not to be stirring up any dust. You're not always 100% in agreement, right?

John, "We didn't have fights, because after all the years we've been together."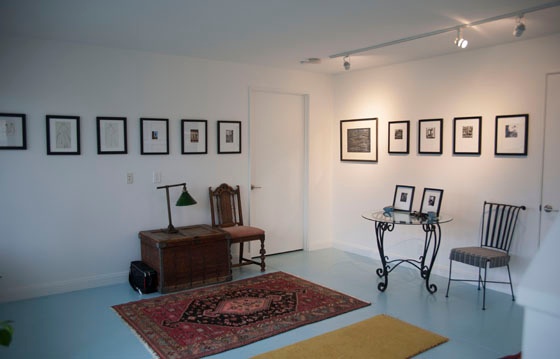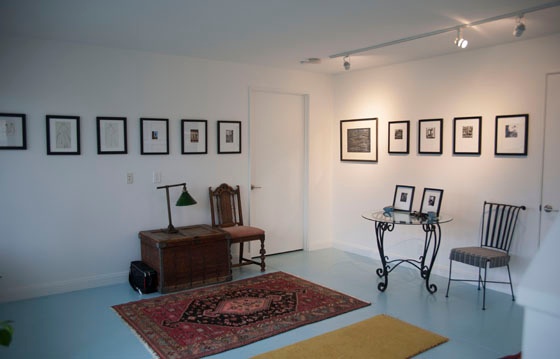 Marcia, "Well, my answer to that, because I get asked that question a lot, how did two architects make a building without killing each other, well, after being together this long, we know what is really important to the other. So, each one of us knew when to say, all right, I wanted that door. It was like, you've got to be kidding me!"

Where did it come from?

Marcia, "Arizona, on a huge truck. It took eight guys to take it off and hang it, and it was a huge deal, and he kept going, eh, eh, but that was what I wanted. He wanted the seven-degree angle. Come on. We take turns. And I'm so glad about my door."

John, "It's the first thing I worked on when I came in the house."

What were some of the things that you had to through to get LEED Platinum Certification?

Marcia, "I would say broadly, I think this would make a fantastic story just as John was explaining, that we did the first run, and everything they wanted to do for this house in the interest of a low maintenance house, a retirement low maintenance house, and energy efficient house."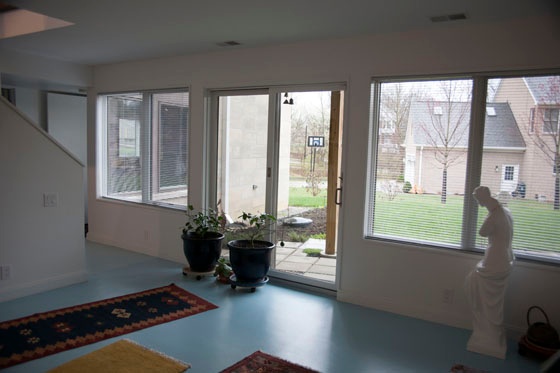 John: "And no fossil fuel."

Marcia, "And no fossil fuel, all of those things generally just led to us getting us to go. To answer your question, if we were to put it into three big buckets, I would say the geothermal system, the efficiency of the geothermal system, that's a big bucket of points right there. Then the PV solar panel system. That's a big bucket of points. And then last one, John already mentioned, is the entire approach to landscaping. That was like a big bucket of 15 points, which normally we would've gotten five to seven points up there, but it just bumps it up once you take a holistic approach towards your landscaping. So, those would be sort of three big buckets, and I'm not undermining any of the points. I think every other point is as important as those.

There are so many points, and there are so many places to gain them or lose them. For instance, outside, putting this 24-inch mote of rock around the house, I thought, how could I love this? That sounds so gross. But we gained points for it, and I gained confidence in the way that looked. I was just fine with it. There's a 24-inch boundary all around the house of rock. The point of that is to keep insects or critters from comings towards your house, as well as invasive plants that will damage your home, so it was very common sense. That's one thing I can tell you about the LEED points, is most of them are really common sense.

Well, congratulations, you built 150-year house,

John and Marcia,"We have. Yeah."
USGBC SW Ohio Chapter
Residential Green Committee Mission:
To provide education on sustainability in everyday tasks by promoting household environmentally sound practices to transform the way homes are designed, built, and operated enabling healthy, prosperous and environmentally and socially responsible living.
Ohio Chapter site.
Contact to Volunteer or Participate: Chuck Lohre, Green Cincinnati Education Advocacy, chuck@lohre.com
Green Home Tours: No charge for USGBC Ohio members, $70 per year and you can bring a guest, join the Ohio Chapter. Non-members are asked to donate $15 per person at the door. Contact Chuck Lohre to register for the tours or be introduced to any of the owners of past and future tours, Chuck@Lohre.com, 513-260-9025.
USGBC page about the tours.
The Green Home Tours are sponsored by The Sustainable Partnership of Cincinnati, a group of businesses offering environmentally friendly products and services to create sustainable homes and offices. Dovetail Solar and Wind, GreenBau Design Build, Green Building Consulting, Green Cincinnati Education Advocacy, Greener Stock Sustainable Building Materials & Design, Green Streets Environmental Services, National Heating & Air-conditioning, One Small Garden Planters and Sheds, Patterned Concrete of Cincinnati, and Tepe Landscaping. Learn more at www.tspcincy.com.
---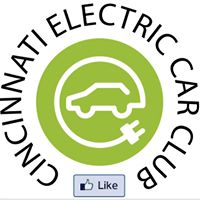 Announcing an Electric Car Meetup Saturday June 2, 1:30 pm
Meier's Winery, 6995 Plainfield Road, Cincinnati. This is just to the east of Kenwood Mall. There are several Tesla and one J-1772 chargers. This is a wine tasting location for Meier's winery. There are tastings at $1.00 a sample, 10 maximum. There are several areas to gather and enjoy the samples indoors and outdoors. We could a short meeting around 2:00 perhaps 15 to 20 minutes. The agenda is: places to hold drive/ride events this summer. There is plenty of parking. I would appreciate a response if planning to attend. Hope to see you then. Thanks.
Ray Cardona
,
Cincinnati Electric Car Club
---
2018 Solarize Cincy Workshop Schedule
Common Roots Pub: May 18th, 7pm
Clifton United Methodist Church: June 2nd, 10 am.
REI Norwood: June 9th, 1pm.
Cincinnati Zoo- Schott Education Center, June 26th, 6pm.
Talk with local solar experts. Meet residents who have installed solar. Get a free Solar Assessment for your home. Learn more.
---


From our Chateau to Yours!

Thursday, June 7, 2018,

5:00 pm - 7:00 pm



Please join us for an evening of sommelier-curated French and German wines and appetizers brought to you by DuChâteau®.
DuChâteau® is an encompassing lifestyle brand, manufacturing luxury architectural finishes from flooring to wall coverings and beyond. The company introduced wide-plank, hard-wax oil finished flooring to the U.S. market back in 2007.

DuChâteau marries fine, old-world craftsmanship with state-of-the-art technology. The timeless, yet incredibly personal design statements herald a new era of design innovation - one that seats nature with fashion and architecture.

DuChâteau believes that showcasing the luxury and beauty of nature should not come at the detriment of nature itself. As a major proponent of sustainability, DuChâteau is committed to the environment, and ensuring its future. DuChâteau wood products are certified by the Forest Stewardship Council® Chain of Custody Standard. As a proud member of the U.S. Green Building Council, all DuChâteau wood products contribute to LEED Credits.
Meet Julie Van Winkle, the DuChâteau Residential Territory Sales Manager, and expert on all things DuChâteau: "I'm so excited to be part of the Greener Stock family, and to be bringing our unique and elegant flooring to you."
GREENER STOCK,
3747 Eastern Ave, Cincinnati, OH 45226
RSVP,
info@greenerstock.com,
513-321-0567
---
Sincerely, Chuck Lohre
If you would like to "Do the right thing," join me for lunch and a...
P.S.
What's the best way to learn about Green Building?